The 2015 Jeep Renegade has officially made its debut and everyone's talking about it! With some hints of a traditional Jeep, the Renegade has brought with it a more modern style that's suitable for any taste. Rugged yet sleek, it's sure to fill the Jeep space in your heart…and then some.
Two of the four-cylinder engines are available to us in the United States. The 1.4-liter MultiAir Turbo engine has 160 hp and gets up to 31 highway mpg, which is pretty awesome. The Renegade Trailhawk is available with the 2.4, nine-speed auto, and a low-range equipped 4×4 featuring a 20:1 crawl ratio. It's also comes with Jeep's terrain-response control system called "Selec-Terrain", which adjusts suspension, traction control, and shift points between five different types of terrain.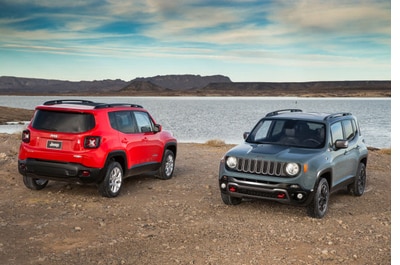 The Jeep Renegade has a solid amount of new features to look forward to. It has a fully-electric steering system, which gives you more control and agility. It also regulates the power-assist curve according to your current driving conditions. The fuel economy improves by 3% when compared to a hydraulic power steering system. No complaints here! It also comes equipped with a new Direct Steering Torque (DST) system, which controls oversteer. The DST is also incorporated into the electric power steering to compensate for torque steer and to help deal with the pull in crowned roads.
The Renegade also has an awesome number of safety features – 70 to be exact. Some of these include collision warnings, which activate your brakes when necessary, and lane-departure warnings that "assist the driver with corrective action" and steers you literally in the right direction. Although out of character for a typical Jeep, these new features will definitely come in handy.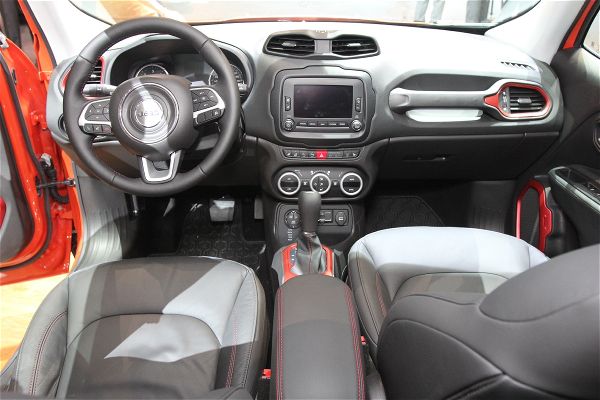 The Renegade interior is "defined by the intersections of soft and tactile forms with rugged and functional details." So what does that actually mean? It's a nice mix of soft and hard features – the instrument panel is soft but the passenger grab-handle is hard – that create a very dynamic layout. The "My Sky" removable sunroof is particularly fun, allowing for panoramic views, which is always a good time. The removable feature takes it to the next level. The Renegade is available in red, tan, green, blue, silver, black, white, and grey.
If you weren't a Jeep person before, we promise you will be now! Stop by our Chrysler Jeep Dodge Ram showroom and give the Renegade a spin! We know you'll love it.