Last week, Lester Glenn Auto Group announced our partnership with Make-A-Wish New Jersey and we couldn't be more excited to get started. Over the next year, we'll be working together to help grant wishes to children with life-threatening medical conditions in our community.  It's our pleasure to be able to give back in such an awesome way and we would love it if you joined us!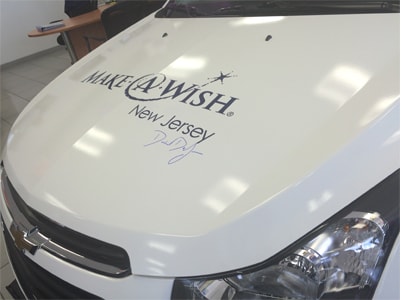 From now until the end of the year, each of our showrooms in Ocean Township, Manahawkin, and  Toms River will be accepting donations.  On top of that, each of our dealerships will  have a designated Make-A-Wish New Jersey vehicle. If someone purchases  or leases a vehicle, they'll be able to  sign the Make-A-Wish car to show  they're part of our efforts. At the end of  the year, all of the cars will be full of  signatures, showing complete solidarity  among Lester Glenn and our  customers.  It's truly a sight to see. It  hasn't even been a week yet and we've  already made awesome progress!
Our goal is to be able to help grant wishes for children in our community – Monmouth and Ocean Counties. Wishes include a range of different things – from being a police officer for a day to getting a new iPhone – the possibilities are endless! Each situation is unique but each granted wish makes such a difference in the lives of the children.
The Make-A-Wish Foundation was founded in 1983 but the concept was inspired a few years prior. A young boy named Chris Greicius had leukemia and his number one wish in life was to become a police officer. Chris had a family friend who worked for the Department of Public Safety who was dead set on making Chris's dream come true. He rounded up his police friends and they arranged to meet Chris in the empty lot at the DPS building. Chris arrived and they gave him a "Smokey Bear" hat and someone's old badge; there Chris became Arizona's first and only honorary DPS officer.  That's what started it all. Make-A-Wish New Jersey granted 400 wishes just last year. To learn more about their history and how you can get involved, please visit this website: http://nj.wish.org/
It's going to be a great year at Lester Glenn Auto Group!